API Standard 610 - Centrifugal Process Pumps

---
Westpower is the authorized CPC Pumps representative in the USA for California, Colorado, Idaho, Montana, northern New Mexico, western North Dakota, Utah and Wyoming. This proud partnership extends back to the earliest days of our company.
With more than 50 years of service to the marketplace, CPC Pumps is a globally recognized supplier of heavy-duty centrifugal process pumps. Exclusively manufactured in North America, its ISO-9001 accredited operations specialize in producing overhung (OH2, OH3, OH4 and OH5) and between bearing (BB2 and BB3) pump designs compliant with the 12th Edition of API Standard 610. CPC is widely recognized for its flexibility to meet unique commercial and technical requirements of individual clients.
As an alternative solution for replacing obsolete pumps, CPC manufactures drop-in replacement pumps. These robust pumps provide the hydraulic, mechanical and safety benefits of modern equipment, without changing the foundation, utilities and process piping within an existing process unit.
Additional Resources
The following links provide more detailed information on CPC Pumps: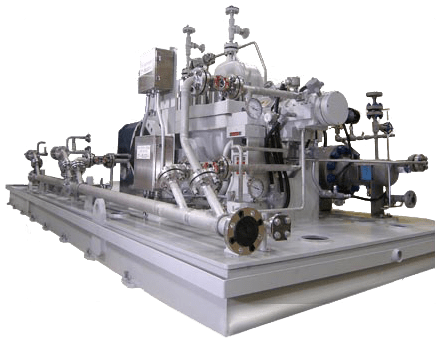 ---
Debates often rage whether process service conditions are better served with an API 610 or ANSI/ASME B73 pump type. Westpower's MABRE pump simplifies this decision by alternatively presenting a heavy-duty arrangement explicitly designed to bridge the gap between the two traditional industrial pump design standards. The MABRE centrifugal pump is designed to thoroughly exceed rigorous service requirements in Oil & Gas, Mining, Petrochemical and other general industries. The MABRE family of overhung pumps (ie. type OH1, OH3 and OH4 configurations) is built around modern hydraulic designs, delivering flow rates of more than more 5,000 GPM and delivered head exceeding 1,000' TDH. MABRE Features & Benefits:
API-style fully enclosed impellers, dynamically balanced to ISO 1940.1, grade 2.5
Metal-to-metal casing fits with spiral wound metal gaskets
Unparalleled L3/D4 shaft stiffness ratio compared to any ASME B73 pump
Compatible seal chambers for single/dual API Standard 682 or ASME cartridge mechanical seals
Full back-pullout configuration
Carbon steel through duplex stainless steel stocked wet-end metallurgies
500 PSIG MAWP casing design with either 150 or 300 lb., RF or FF, process flanges
Additional Resources
The following links provide more detailed information on MABRE Pumps: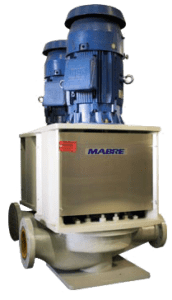 BUYING A NEW OR RECONDITIONED PUMP? WE GIVE YOU MORE OPTIONS!
Westpower has the knowledge and expertise to ensure the optimal equipment choice for your operations